The Chardonnay Mom, vol. 12 | Carol Kaufmann |October 14, 2020
Need clean-crafted, delicious wine delivered to your door? I can hook you up.
My friend and neighbor Lee bought a Scout & Cellar gift certificate for her sister-in-law for her birthday, and asked if I would offer her some wine recs. "Yes! Yes! A thousand times yes! What kinds does she like?"
"Pinot Noirs."
Oh.
Is there any grape that has tortured me so? Our sad beginning dates back to my early twenties when I didn't know anything about wine, other than I liked it—especially reds. I loved to order "Pinot Noir." It sounded so sophisticated, so like I knew what I was doing. But every one I ordered was wan in color and tasted like the off-brand grape juice that subbed as wine at communion in my hometown Baptist Church in Kentucky. Please, no more.
Then, the film Sideways, featuring national treasure Paul Giamatti and Thomas Hayden Church (above), came out in 2004, touting the varietal's subtlety and sophistication, and instructing Pinot skeptics that "you gotta get your nose in there" before taking a sip. The unexpected movie phenom resurrected the Pinot, sales boomed, and at my nicer-than-I-could-afford work dinners, they were all the rage.
Subtle? Ha! I still tasted Lord's Supper grape juice.
But every once in a while, a single sip would be transformative, a true elixir. Layers of red fruit, followed by bursts of brown sugar – and not heavy at all. But how do you find a good one? Price isn't always an indicator of quality, and it pained me to spend upwards of $50 on a bottle at a nice dinner … for alcoholic grape juice. (I guess that's what all wine is…but you see my point).
Pinot noir grapes are sensitive little buggers, largely due to their thin skins, and like cool temperatures. They're sensitive to wild temperature fluctuations (I'm sure the fires in Northern California were no help) and prone to rot, mold, and mildew. They also don't have terribly high yields.
[Here's a fun piece about Pinots].
But if they make it to harvest, these light-bodied, high acidity, low tannin wines are incredibly popular for a reason. A good Pinot blends red yummy fruit (think cherries and raspberries), a hint of spice, and layers of complex flavors – a little gift that keeps on giving. And their low tannins, doesn't overwhelm the flavors. It's a great choice for your lighter meals – think chicken, seafood, pork, and hearty vegetables.
And I now know two Pinot Noirs that I absolutely love, I have made my peace.
Middle Jane Pinot Noir, Willamette Valley, OR. This is the best PN I've ever had. Seriously. Light, flavorful, spice, no grape juice in sight. I know I'm not alone because tons of the Scout & Cellar consultants bought cases of it the second this year's vintage debuted. I'd pair it with medium-flavored cheeses, such as gouda or Gruyere, tuna steaks or grilled salmon with a sauce, hearty fall dishes that contain pumpkin, sweet potatoes, or butternut squash, maybe even pizza! It's also lovely to drink on its own, preferably with friends in front of a fire.
The Middle Jane story is fantastic as well: Every woman in the family of our founder (see below) has the middle name of Jane. It's a reminder, she says, to be more like Jane, her brave, hardworking, passionate great, great grandmother, who always wore lipstick, only swore when absolutely necessary, and did things the right way. It's also the model for making this label. $42.
Conte de la Terre, Willamette Valley, OR. This Pinot is a bit thicker and smoother, I think. It has tarter red fruit flavors (think pomegranates or tart cherries) and a bit more of an earthy flavor. Still wonderful. Think about pairing with a lighter meat pasta, such as a turkey tetrazzini or a chicken parm. You can watch Sarah (Jane) Shadonix, our founder, talk about the Conte de la Terre Pinot here. $42.
I also have a tribe of fellow Scout & Circle consultants (and friends😊) in Chicago. They love the Dove Hunt Dog Pinot Noir. It's light and fruity and takes me back to Baptists communions, but they think I'm nuts.
/////////////////////////////////////////////////////////////////////////////////////
HOLDAY GIFT SETS
I can't believe any of these puppies are left! The Celebrate the Season Box (below) went on sale on Wednesday and, due to demand from customers (and consultants!), it nearly crashed the site. Twelve different mini-wines are included to celebrate key moments in the season, from baking cookies to decorating the house, and a QR code that links to a special message and tasting cards. This makes a great gift, too. $119. Find it here.
And this is only one of our NINE holiday gift sets. Check them out here.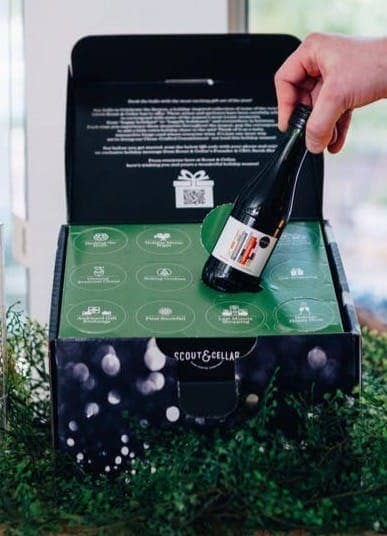 /////////////////////////////////////////////////////////////////////////////////////
PAIRINGS
READ: Save Me the Plums by Ruth Reichl. The former editor-in-chief of Gourmet dishes about her career path from Berkeley cook to New York Times restaurant critic to the lofty editorial heights at Conde Nast during its heyday. If you're a foodie, you'll love the descriptions of Reichl's dinners and recipe creation in Gourmet's famous test kitchen. And if you're a human, you'll love her lyrical, humorous, and straightforward storytelling.
PAIR: 2019 Veinte Cabernet Sauvignon. Wild plums meets sage and tobacco in this distinctive Cab Sauv that will go with any big, spicy dishes.
READ—AND WATCH: The Guernsey Literary and Potato Peel Pie Society by Mary Anne Shaffer and Annie Barrows. This might be one of my favorite books—and movies!—of all times. It's a tale that combines quirky characters, the German occupation of the Channel Island of Guernsey during WWII, and the lengths people will go to for companionship and good literature. It's a love story, on many levels.
PAIR: Middle Jane Pinot Noir orConte de la Terre Pinot Noir. $42 each. Layered? Quirky? Now what does that sound like? Grab either Pinot and curl up.
WATCH: Succession. Molded on the Murdoch clan and their media empire, this American version of high family dysfunction showcases (often hilarious) trainwreck after trainwreck among the uber wealthy and powerful. After Season 1, I detested every character, but Season 2, I could watch it for the one-liners alone.
PAIR: 2018 Bookbinder 3rd Edition, $58. Bold and well developed describes both the show and this fine Cab. The show has handfuls of jawdropping "What did he just say?" moments; the wine has plenty of "ooohs" and "ahhhhs" and "mmmmms."
/////////////////////////////////////////////////////////////////////////////////////
©2020 Carol Kaufmann
My name is Carol Kaufmann.
My teenage son presented me with a burst of inspiration when he sarcastically called me "a Chardonnay mom" one night at dinner. Why should that be an insult? I thought. Why is a Chardonnay mom a bad thing? Chardonnay is a delicious, highly versatile, and glorious grape. Being a Chardonnay mom should mean a woman who wears many hats: a family gal, a hard worker, a passionate devotee to great conversation and gathering of friends. Right then, I decided I would proudly take on that title and promote Chardonnay—and all other delicious wines out there—one bottle at a time.
I'm now an executive consultant for Scout & Cellar, a wine company based in Texas that sources and creates Clean-Crafted™ wines from small farms and family-owned vineyards. I joined the team because these wines are delicious, made responsibly without all the chemicals, pesticides, additives, and sweeteners frequently used in other mass-produced wines, and can be consumed by many who have health issues. (Please check with your doctor). Oh, and they're keto- and paleo-friendly and have 40% fewer calories than most other wines.
I'm also a full-time author/writer/editor; wife and mom of two teenagers, two rescue cats, and a very opinionated bulldog (see below); and native Kentuckian. I love books, travel, my friends and neighbors, wine (of course), and current hometown of Alexandria, Virginia.